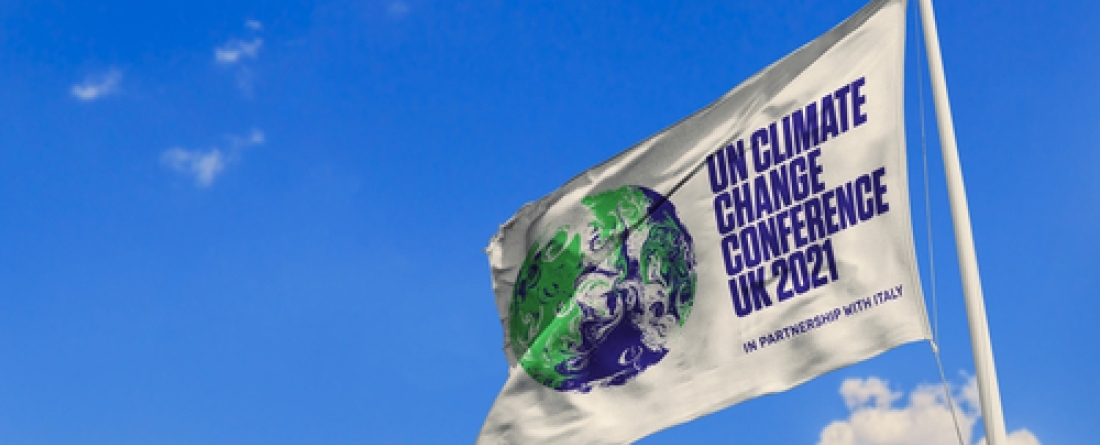 Experts, policy practitioners, and students from the Center for Global Sustainability (CGS) attended this year's United Nations Framework Convention on Climate Change (UNFCCC) 26th Conference of Parties (COP26) to discuss a range of global climate issues from raising local to national to global ambition, mobilizing funds to accelerate climate action, and integrating data on adaptation and mitigation into decision-making. In particular, CGS's Director Nate Hultman while on leave from the Center supported the U.S. State Department in Glasgow on U.S.-China discussions on climate, the release of the U.S. Long Term Strategy, which Hultman was lead author on, and other bilateral engagements with key countries.
After two weeks of negotiations in Glasgow, representatives from almost 200 countries agreed to ramp up their commitments, phase out fossil fuels, and increase aid to developing countries. Although still not enough to get the world on track to limiting warming to below 1.5 degrees Celsius, the final agreement, known as the Glasgow Climate Pact, delivers a strong set of outcomes that provide good momentum for additional action into 2022. And CGS's work directly contributed to this momentum through supporting an enhanced engagement between U.S. and China, assessing national ambition from new climate pledges from major global economies, driving the message forward that all-of-society is needed to achieve our climate goals, and more.  
So what do our experts think about COP26's outcomes and the Glasgow Climate Pact? Their thoughts below.  
Announcements on coal retirement and phase-out commitments
2021 was an exciting year for growing momentum to end coal use globally. An increasing number of countries made commitments leading up to and at COP26 to stop building new coal plants, end international coal finance, and transition away from coal to clean energy. In many ways, the conference produced important outcomes that have put the majority of new coal construstruction to an end and led to a marked acceleration of global coal transition. Specifically, more than 40 countries pledged to shift away from coal, including major coal users such as Poland and Vietnam. It is also the first time that the COP climate pact specifically targets coal for climate actions. Despite the disappointment in the final language being watered down from "phase-out" to "phase-down", it did not change where the world is heading on coal. 
The pact's language change in fact reflects the underlying concern of the substantial challenges to ensure the rapid coal transition is also equitable. South Africa, another major coal producer and user, is testing a new model to deliver a rapid and just coal transition with international transition finance. It is set to receive $8.5 billion to accelerate its transition away from coal power from Britain, France, Germany, the United States, and the EU. This mechanism, if carried out effectively, is promising for other coal-heavy developing countries, like India and Indonesia, to achieve the transition without sacrificing societal development needs. CGS's Global Coal Transition Project develops plant-by-plant coal retirement strategies for individual countries that target the low-hanging fruit plants for rapid closure and ensure a smooth transition for the remaining fleets to balance multiple environmental, economic, and social priorities.  
Learn more about CGS's Program to Accelerate the Global Coal Transition.
US-China Joint Announcement 
The final days of COP26 featured renewed joint climate leadership from the United States and China. The two countries pledged to enhance cooperation and boost climate action despite seemingly fraught tensions ahead of the conference. This agreement is a welcome show of solidarity and sends positive signals to the world for enhancing global ambition. Some of the significant elements of this joint declaration are pledges to enhance climate ambition in this decade, reduce methane emissions, encourage decarbonization, and establish multiple channels for bilateral collaboration.
Despite challenging circumstances between the two countries in recent years, this pledge was successfully built on persistent dialogues and tremendous efforts from both sides, all supported by a broad policy and research community. CGS's China Program is part of this policy and research community, providing thought leadership to identify and promote effective low-carbon pathways for China's sustainability transitions. Climate change is a global issue that cannot be solved without the cooperation and leadership from the world's two largest emitters. However, the solutions are deeply rooted in every aspect of national development priorities. It is in both countries' strong interests to win the competition of transitioning towards a low-carbon, high-quality growth with technological advancement, industry upgrades, and improved human well-being. 
Learn more about CGS's China Program.
Commitments and Pledges to Enhance Ambition 
The Paris process includes a 5-year update cycle for each countries' climate pledges (known as Nationally Determined Contributions). We have been tracking the aggregate effect of these pledges in 2015 and again in 2021 and estimating the projected temperature outcome. While the world has been making steady progress towards lowering the projected temperature outcomes through strengthened pledges until COP26 the collective pledges fall short of keeping the temperature below 2 degrees. 
However, with the latest aggregation of the strengthened pledges submitted before the conclusion of COP26, we are witnessing a historic moment when the projected temperature finally tipped under 2 degrees. The world has come a long way since the Kyoto Protocol when we were projecting a 4-degree world. Let's take a moment to celebrate this historic accomplishment. But after the celebration, let's get back to the drawing board and find ways to further strengthen the pledges to align with the new 1.5-degree goal. And remember, pledges are just pledges until they are fulfilled by concrete actions on the ground. More efforts are needed to put words into action in all sectors of the economy. 
Mobilizing Financial Capital for Sustainability  
Climate finance was one of the most discussed and contentious issues at COP26. Developing nations have difficulty accessing affordable finance and often face disproportionate impacts from climate change. The 2009 pledge from developed nations to deliver US$ 100 billion per year in new funding starting in 2020 remains only partially fulfilled. On a positive note, there was evidence of a substantive shift in the financial sector's willingness to mobilize capital in order to address climate risks and accelerate the transition to clean energy. 
For its part, UMD's Closing the Investment Gap in Sustainable Infrastructure (CIG), working with the UN Undersecretary-General for Least Developed Countries, Land Locked Developing Countries, and Small Island Developing Nations (SIDS), launched a new investment mechanism, the Solar Airports Financing Facility for SIDS (SAFF). The SAFF is designed unlock access to low-cost institutional investor capital for SIDS. It is focuses on projects typically too small and risky to attract private investment. CIG aims for the SAFF to align the goals of attracting private investment in clean energy for SIDS, improving energy security by decreasing reliance on diesel fuel imports, and creating resilience hubs at international airports without increasing sovereign debt.
Adaptation and Resilience
In the run-up to Glasgow, COP26 was being touted as the "adaptation" COP. Adaptation figures prominently in the umbrella Glasgow Climate Pact; with separate sections on adaptation, adaptation finance and loss & damage. However, despite this apparent prominence, substantive action on adaptation remains limited. There was no specific guidance to the GCF to remove procedural and other bottlenecks for the actual flow of finance—adaptation still accounts for only 20-30% of actual GCF financing. The ultimate outcome with regard to loss & damage was substantially watered down; limiting itself to a technical facility; rather than a separate financing mechanism. 
That said, there are a few promising signs. The US pledge (PREPARE) to raise adaptation finance by six-fold to a target of $3 billion/year is significant. There were significant new financial contributions to the Adaptation Fund and the LDCF. The Paris Agreement "rulebook" for Article 6.4 targets 5% of the share of proceeds for adaptation. Of particular note is UMD's lead role in shaping and launching the new Adaptation Research Alliance (ARA)—a multistakeholder coalition with over 100 members—that will work to catalyze and scale-up action-oriented research for adaptation and resilience. ARA has gotten off to a great start with the UK and Canada jointly pledging almost US$ 150 million for action research in the global South.