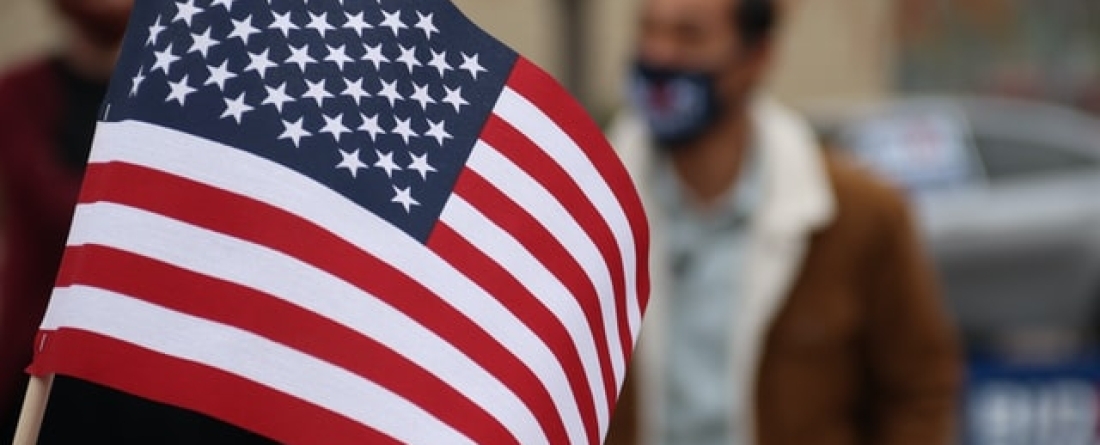 A U.S. NDC of 50-52% emissions reductions by 2030 will catalyze major changes across the U.S. economy
This fact sheet presents indications of the kinds of changes we would see in the U.S. by 2030 in line with at least 50% emissions reductions, based on several recent analyses cited in the references.
How can we slash emissions in half (and more) by 2030?
A comprehensive effort across all sectors and gases—led by the federal government and integrating an all-of-society approach—could deliver U.S. GHG emissions reductions of at least 50% below 2005 levels by 2030.

This level of reductions can be achieved through a combination of policies such as:

New investment-led policies from Congress, such as tax credits for renewable energy deployment and EV purchases, sustainable infrastructure investment, and R&D support.

Regulatory actions from the executive branch in areas such as vehicle fuel economy, energy efficiency, and non-CO2 gases.

Continuing and expanded actions from states, cities, businesses, and other actors.

The electricity and transportation sectors will be the biggest contributors to overall reductions by 2030—potentially representing about three-quarters of all reductions.

Ambitious action must also be taken across other sectors, including industry, buildings, lands, and those emitting non-CO2 gases, to achieve the 2030 goal and to set the country on a course toward net-zero emissions by 2050.
What does this transformation mean for the U.S. economy, jobs, public health, and households?
Economy

: A 50-52% emissions reduction goal accelerates a near-term transition to an economy built on jobs in growing industries, improved health and well-being of our citizens, improved clean energy technologies, and the development of innovative industries in the United States.

Jobs

: The transition will create new opportunities in the industries and careers of today (i.e. energy efficiency retrofits; clean energy manufacturing, installation, and maintenance; energy storage, electric vehicle manufacturing, regenerative agriculture). Already, the clean energy industry employs 1.3 million workers across over 300 occupations, and energy efficiency employs an additional 2.35 million.

Health

: Lowering coal and gas electricity generation compared to current levels would result in an additional 5,700 avoided premature deaths annually and have an economic benefit of $26 to $58 billion.

Households

: Enhanced efficiency and affordability in technology will reduce energy bills across the board for households.
What will at least 50% reductions look like for different economic sectors?
Electricity

:

Cleaning up electricity provides half or more of U.S. reductions toward our 2030 goal.

Renewable power generation will deliver roughly 50% of our electricity—a quadrupling from today's levels.

In contrast, there will be little to no electricity generated by coal-fired power plants without carbon capture and storage—which allows for significantly cleaner air and better health.

By 2025, new natural gas plants will be equipped with carbon capture and storage. Generation from gas-fired power plants will be a third lower than today.

Transport

:

Cleaning up transportation provides about ¼ of reductions toward our overall 50-52% goal.

In 2030, over 65% of new cars and SUV sales will be electric (pure EV or PHEV). and 10% of new truck sales will be electric.

Buildings

:

All new buildings are 100% electric.

Almost all new appliance sales will be electric as part of a longer-term transition away from natural gas.

Industry

:

All

industrial facilities nationwide will have adopted industrial efficiency programs.

Cement emissions will be 20% lower than they were in 2018.

Non-CO2 gases

:

Hydrofluorocarbons (HFCs) emissions will be reduced by almost half.

Methane (CH4) leaks from oil and gas systems will be cut by 60%.

Natural and working land

s:

Substantial new investment in protecting and building the U.S. land-sector sink is critical with a carbon absorption increase by 20%.
More information on the scenarios behind these potential pathways to at least 50%, including detailed policy frameworks used in the analyses and documentation of methodology, is available in the following references:
Hultman, N., L. Clarke, H. McJeon, R. Cui, P. Hansel, E. McGlynn, K. O'Keefe, J. O'Neill, C.  Wanner, A. Zhao (Feb 2021). Charting an ambitious U.S. NDC of 51% reductions by 2030. University of Maryland Center for Global Sustainability Working Paper. Available at: https://cgs.umd.edu/sites/default/files/2021-03/Working%20Paper_ChartNDC_Feb2021.pdf
N. Hultman,  K. Kennedy, L. Clarke, H. McJeon, T. Cyrs, J. O'Neill, A. Zhao, J. Behrendt, W. Jaglom, T. McGarvey,  J. Feldmann, R.  Cui,  K. O'Keefe (Apr 2021). An All-In climate strategy can cut U.S. emissions by 50% by 2030. America is All In Working Paper by University of Maryland Center for Global Sustainability, World Resources Institute, Rocky Mountain Institute, and Bloomberg Philanthropies. Available at: https://www.americaisallin.com/wp-content/uploads/2021/04/all-in-climate-strategy-for-50april-2021-1.pdf
Hultman, N., L. Clarke, C. Frisch, K. Kennedy, H. McJeon, T. Cyrs, P. Hansel, P. Bodnar, M. Manion, M.R. Edwards, R. Cui, C. Bowman, J. Lund, M. Westphal, A. Clapper, J. Jaeger, A. Sen, J. Lou, D. Saha, W. Jaglom, K. Calhoun, K. Igusky, J. deWeese, K. Hammoud, J.C. Altimirano, M. Dennis, C. Henderson, G. Zwicker, J. O'Neill, Fusing national and sub-national climate action is central to rapid near-term decarbonization: The case of the United States. Nature Communications 11, 5255. https://doi.org/10.1038/s41467-020-18903-w
America's Pledge (2019) Accelerating America's Pledge: Going All-In to Build a Prosperous, Low-Carbon Economy for the United States. By: Hultman, N., C. Frisch, L. Clarke, K. Kennedy, P. Bodnar, P. Hansel, T. Cyrs, M. Manion, M. Edwards, J. Lund, C. Bowman, J. Jaeger, R. Cui, A. Clapper, A. Sen, D. Saha, M. Westphal, W. Jaglom, J.C. Altamirano, H. Hashimoto, M. Dennis, K. Hammoud, C. Henderson, G. Zwicker, M, Ryan, J. O'Neill, E. Goldfield (2019). New York: The America's Pledge Initiative on Climate Change and Bloomberg Philanthropies, with the University of Maryland Center for Global Sustainability, Rocky Mountain Institute, and World Resources Institute. 156 pp. consisting of 94 pp. Report, 62 pp. Technical Appendix. Available at: https://www.americaisallin.com/wp-content/uploads/2021/02/accelerating-americas-pledge-1.pdf