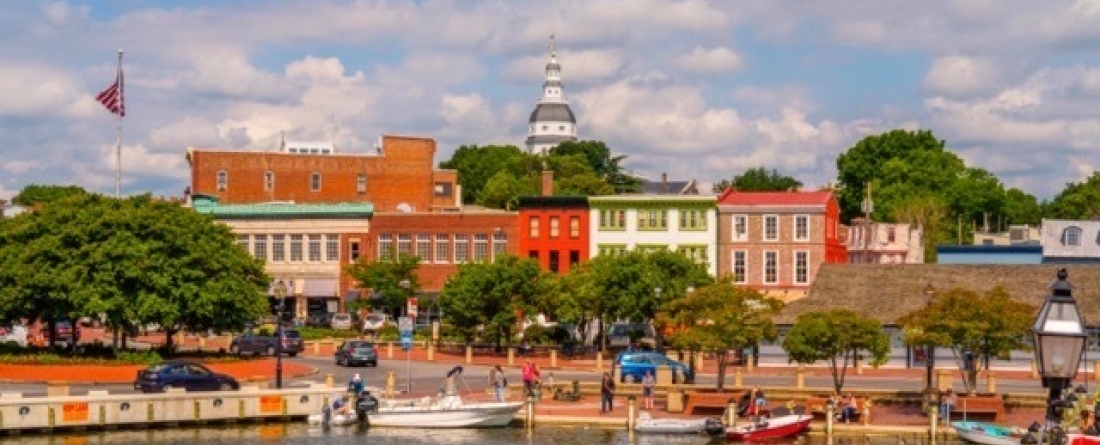 How can Maryland achieve its ambitious climate goals?
New report presents pathway to achieving Maryland's climate targets through an all-of-society approach
Meet the CGS experts!
Kathleen Kennedy, Assistant Research Professor
Alicia Zhao, Research Manager
Steven J. Smith, Associate Research Scholar
Kowan O'Keefe, PhD student
Bradley Phelps, Research Assistant
Shannon Kennedy, Senior Manager of Strategic Engagement
Ryna Cui, Assistant Research Director
Camryn Dahl, Program Manager
Sarah Dodds, Research Assistant
Nate Hultman, Director
Press release: More from the experts!
Kennedy, K., A. Zhao, S. Smith, K. O'Keefe, B. Phelps, S. Kennedy, R. Cui, C. Dahl, S. Dodds, S. Edelstein, S. Francis, E. Ghosh, G. Hurtt, D. Irani, L. Ma, Y. Ou, R. Praisa, A. Taylor, A. Trivedi, N. Wetzler, J. Williams, and N. Hultman (2023). "Maryland's Climate Pathway: An analysis of actions the State can take to achieve Maryland's nation-leading greenhouse gas emissions reduction goals." Center for Global Sustainability, University of Maryland. 118 pp.
The Maryland's Climate Pathway report demonstrates how Maryland can meet its ambitious climate goals of 60% reduction of greenhouse gas emissions by 2031 relative to 2006 levels, and attain a net-zero economy by 2045, all while realizing health and economic benefits for Marylanders, including improved air quality, new jobs, and household cost savings.

Maryland can do this through the coordinated implementation of current and new policies across each sector of the economy, combined with a strong federal partnership and a broader all-of-society approach that integrates actions from cities, counties, local jurisdictions, business and industry leaders, community organizations, and more.

The first step is fully implementing the policies already in place in Maryland. As of 2020, Maryland had already achieved half of the reductions needed—36.7 MMTCO2e of the 73.3 MMTCO2e to meet the 2031 target. Full implementation of existing policies can achieve another 26.0 MMTCO2e by 2031, leaving one fifth of the reductions left—a gap of 10.6 MMTCO2e that must be filled by new policy action.

This analysis offers a pathway to success to fill this gap and achieve the economy-wide 60% goal, illustrating potential actions across all sectors with additional reductions, including 3.6 MMTCO2e from transportation, 2.3 MMTCO2e from electricity generation, and 1.6 MMTCO2e from buildings.

Additional policies from the agriculture, waste, and industrial sectors, including critical reductions in methane, are needed to achieve the 2031 target and support broad economic, social, and environmental benefits for Marylanders. Taking these steps now to achieve the 2031 goals will also place Maryland on a pathway toward its 2045 goal of net-zero emissions.

At its full potential, this pathway delivers substantial health, employment, and economic benefits to Maryland's people and further bolsters the leadership and ability of the State's economy to be globally competitive. New policy action will deliver even more health benefits through improved air quality and reduced respiratory ailments, especially for vulnerable populations—the equivalent of $1.09-$2.44 billion in health benefits by 2031. These benefits extend to the economy with the projected cumulative creation of more than 16,000 new jobs and increased personal income by nearly $1.5 billion by 2031.

Maryland can also draw from the substantial resources being generated through federal partnerships, including the Inflation Reduction Act of 2022, which catalyzes and funds critical actions at state and local levels. With these actions, the State of Maryland can achieve its goals—and build a better future for Maryland by extending resources, cost-savings, new jobs, cleaner air, safer homes and roads, food security, and more.
The Center for Global Sustainability (CGS) at the University of Maryland was selected by the state of Maryland to analyze how Maryland can achieve its ambitious climate goals as per the Climate Solutions Now Act of 2022. Maryland's Climate Pathway weaves together current and potential future policies in Maryland with federal policies such as the Inflation Reduction Act of 2022 (IRA) to identify a comprehensive pathway demonstrating how a state can truly go "all in" on climate. To achieve the "Maryland's Climate Pathway" modeled scenario, we present policy and implementation opportunities to realize the state's ambitious policies and economy-wide target, specifically 60% reductions by 2031 and a net-zero economy by 2045.
More on the report at www.marylandsclimatepathway.com!