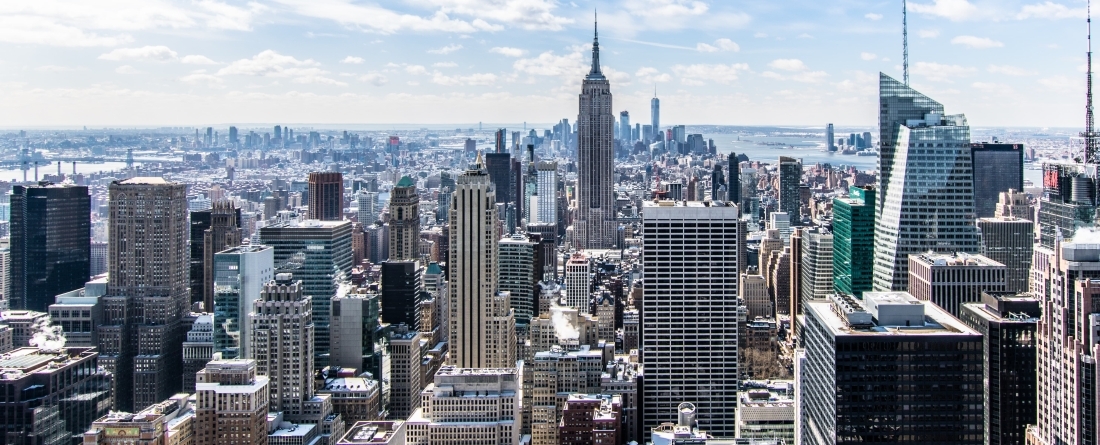 This week saw major events in domestic and global climate action - the United Nations Climate Action Summit 2019 on September 23rd, the SDG Summit 2019 as a part of the United Nations General Assembly, and Climate Week NYC.
Several Center for Global Sustainability (CGS) faculty, researchers, and friends were present at these events through public events, press events, private meetings, and more.
Despair or Green Hope? How Denmark is leading the charge against climate change
As a part of the School of Public Policy's (SPP) Brody Forum and ahead of this week's events, CGS hosted the Danish Minister for Climate, Energy and Utilities, Dan Jørgensen, for a keynote speech on climate change leadership, which was followed by a conversation with SPP Dean Robert C. Orr and audience Q&A.
Minister Jørgensen demonstrated how Denmark is filling the global climate leadership gap by becoming the green superpower required to lead each country to reaching its Paris goals. Denmark is proving this with their highly ambitious goal of 70% emissions reduction by 2030.
CGS is honored to be supported by the Government of Denmark on our Initiative on Closing the Investment Gap for Sustainable Infrastructure.
Global Climate Strike
On Friday, September 20th, CGS staff, students, and faculty participated in the global climate strike in Washington DC, one of 150 countries and cities participating.
The Initiative on Closing the Investment Gap for Sustainable Infrastructure (the CIG Initiative)
Sunday, September 22nd, CGS jointly convened a group of CIG stakeholders, partners, and supporters with the Climate Investment Platform (CIP) to showcase the work of both initiatives. High-priority sustainable infrastructure projects were presented that have been developed by six of the Initiative's developing country investment teams.
The highlighted projects are of critical importance to the national development strategies of Bangladesh, Chile, Colombia, Egypt, Jamaica, and Kenya.
Hon. Sahar Nasr, Minister of Investment for the Government of Egypt, praised the ability of the CIG Initiative to connect private funding to essential projects in Egypt. 
The CIG Initiative also released a new briefing on activities to date and what is to come. 
The CIG Initiative Press Briefing to the United Nations
Following the convening, the CIG Initiative Director, Irving Mintzer, was joined by Nili Gilbert, co-founder and portfolio manager of Matarin Capital, Marc-Andre Blanchard, Canada's permanent UN representative, and Hon. Kamina J Smith, Senator & Minister of Foreign Affairs and Foreign Trade for the Government of Jamaica for a press briefing at the United Nations.
The briefing announced the launch of the third phase of its mission to match private financing with specific infrastructure initiatives in developing countries. Gilbert remarked, "CIG is filling the gap while also providing the critical social infrastructure that will guide us on this collaborative path forward."
More information here.
Other meetings, events, and more
Tuesday, September 17th, America's Pledge launched a new factsheet on US subnational action, its impact, and new innovative actions over the past year. CGS modelers and researchers contributed to the factsheet and provided the analysis for the factsheet's figure. "A wave of U.S. climate leadership is answering the global call to action to combat the climate crisis. Cities, states, and communities across the U.S. are executing bold, ambitious plans to reduce national emissions, even in the absence of federal leadership. This rapidly expanding coalition is showing the world that the transition toward a transformed, clean economy generates opportunities and extensive benefits for economies, communities, and ecosystems."
Also on Tuesday, CGS Director Nate Hultman authored a piece for Brooking's Planet Policy blog in his capacity as a Nonresident Senior Fellow for Global Economy and Development for Brookings.
He comments on what success will look like UNSG Climate Action Summit, "the Summit can help world leaders to coalesce around the ambitious expectations that will be needed as countries evaluate their options for revising their existing climate strategies and look ahead to make new ones."
Monday, September 23rd, CGS Director Nate Hultman joined several partners at the Japan Climate Initiative (JCI) for a reception to celebrate climate action across partner governments, NGOs, and businesses. Hultman welcomed the guests and implored all subnational actors - cities, municipalities, businesses, and more - to demonstrate their climate ambition and emphasized that in many cases, these actions (proven in the US and now in Japan, and many others) can add up to major emissions reductions - supporting current and more ambitious national NDCs.
On Tuesday, September 24, CGS Director Nate Hultman was a panelist for The Climate Hub's Tracking Climate Progress in the Next Decade: Action and Reward event. Hultman joined Prof. Dr. Niklas Höhne, Founding Partner of NewClimate Institute and Special Professor in "Mitigation of Greenhouse Gas Emissions" at Wageningen University; Professor Angel Hsu, Founder and Director of Data-Driven EnviroPolicy Lab and Assistant Professor of Environmental Studies at Yale-NUS College; Dr Anne Olhoff, Strategic Director of Climate Planning and Policy at UNEP DTU Partnership; and Professor Thomas Hale, Associate Professor of Global Public Policy at Blavatnik School of Government at the University of Oxford. While on the panel, Hultman offered, "The global ambition we need depends on fusing subnational leadership with national action – informed by the best research."
September 24 - 25, friend of CGS, Jae Edmonds co-hosted IETA's annual Carbon Forum North America (CFNA), the flagship regional North American event that brings a diverse set of stakeholders together to discuss the future of c5limate action and the role of markets and cooperation to enhance ambition. This meeting, an update to Article 6: Climate Education and Training was presented, crucial element to the United Nations Framework Convention on Climate Change (UNFCCC) 25th Conference of the Parties (COP25), was presented. New research and opportunities for capitalizing on the power of Article 6 to enhance global mitigation efforts was discussed, including a presentation from CGS researcher, Sha Yu.
In addition to all of these activities, several CGS faculty and staff attended private meetings, brainstorming sessions, and research talks: CGS Research Director Leon Clarke; Prof. Tom Hilde, Associate Research Professor; Senior Fellow, CISSM; Amber Leonard, Executive Director for the CIG Initiative; Ryna Cui, Assistant Research Scholar for CGS; Jiehong Lou, PhD candidate and research assistant for the CIG Initiative; and Shannon Kennedy, Manager of Strategic Engagement for CGS.