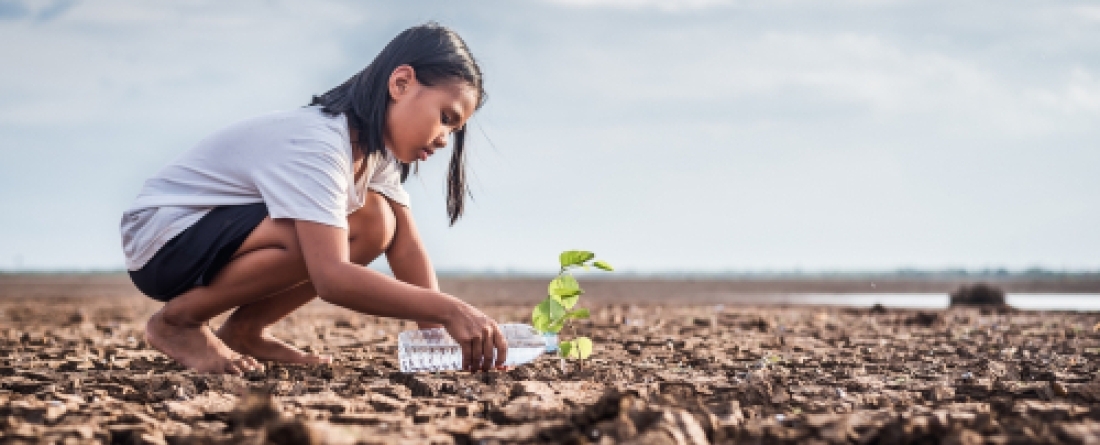 In advance of November's COP27 in Sharm el-Sheikh, Egypt, the annual UN Climate Change Conference (SB56) met in Bonn, Germany, from June 6th to June 16th to lay the groundwork for the highly anticipated international conference later this year. While hopes were high for progress, delegates came to no formal agreement, creating uncertainty for the status of discussions going into COP27.
The agendas SB56 focused on mitigation, adaptation, support to developing countries (particularly finance), and loss and damage. These negotiations took place within contemporary global contexts, such as the ongoing COVID-19 pandemic and the consequences of Russia's war in Ukraine, including increasing energy security concerns and rising inflation rates worldwide.
Several Center for Global Sustainability (CGS) researchers participated in the conference. UMD School of Public Policy Professor Anand Patwardhan was in attendance as a participant in informal discussions on opening actions for the global stocktake (GST) process. Additionally, Center for Global Sustainability (CGS) Director Nate Hultman and Postdoctoral Associate at CGS Mengye Zhu virtually presented and participated in a discussion on the Independent Global Stocktake (iGST). CGS is the mitigation group co-led by the Council for Energy, Environment, and Water (CEEW) for the iGST—a consortium of modelers, analysts, and advocates working together to support a robust GST that empowers countries to take greater action on climate change.
SB56 is the first time these governments have met to discuss the global climate agenda since COP26 in November 2021, where negotiators debated several operational details of the 2015 Paris Agreement, a promising step towards the plan's implementation. UNFCCC Executive Secretary Patricia Espinosa addressed delegates at the conference's opening and said continued decisions and interventions "will send a clear message to the world that we are headed in the right direction. Because the world will have one question in Sharm el-Sheikh: what progress have you made since Glasgow?"
Hear from our experts below about SB56 outcomes and what this means for the road to COP27 in Sharm el-Sheikh. 
Climate Finance
Expert: Jiehong Lou, Assistant Research Professor, CGS
One prominent theme of the Bonn conference was climate finance and the question of who should be paying for the economic, social, and environmental transition required to meet our global climate goals. Specifically, at SB56, funding for loss and damage initiatives was a significant element of the climate finance discussion. The concept of loss and damage—the consequences of climate change that go beyond what a nation or community can adapt to or abate through mitigation measures—has been a contentious topic due to the extent of financial needs for vulnerable developing countries.
However, funding for community benefits and adaptation does not need to be siloed in the international climate finance discussions. Our recent paper highlights Sustainable Development Goals (SDGs) as co-benefits for local communities to climate mitigation projects, including enhanced local infrastructure, cleaner, and affordable energy, improved employment opportunities, enhanced environmental services, and increased access to electricity. These "co-benefits" to climate action improve investment outcomes and are valued at over 30% more in carbon finance markets.
Yet, the financial commitment remains a challenge to finalizing loss and damage mechanisms. While many developing countries called for an individual financial facility to address the impacts of climate change, developed countries advocated for investment in existing facilities. Climate finance continues to be a historical sticking point. Increasing calls to set up a separate finance facility from advocates and developing country coalitions for loss and damage actions could pose another challenge to international discussion. Discussions at Bonn did not secure an agreement, meaning loss and damage, among other climate finance topics, will be central debates at COP27.
We hope to continue demonstrating to funders, private and public investors, and governments that investment in climate action goes well beyond mitigation, especially for the developing countries most likely to endure loss and damages. 
Global Stocktake (GST)
Experts: Anand Patwardhan, Professor, SPP; Mengye Zhu, 
AP: A notable aspect of the conference was discussing and implementing the global stocktake process. The GST is a process for evaluating the implementation of the Paris Agreement and assessing global progress towards achieving its purpose and long-term goal. The first GST—currently in progress—runs from 2021 to 2023 and will be repeated every five years. The process focuses on three thematic areas: mitigation, adaptation, and means of implementation and support. 
This year, technical dialogues on the GST process began, kicking off the first five-year review process. I participated in a World Cafe event on the first technical dialogue designed for experts to engage and explore topics related to the GST, focusing on support for adaptation, including public financing and private sector initiatives. One of the significant takeaways from Bonn's Technical Dialogues is the crucial role that non-state actors—especially from developing countries—can play in the GST process. In addition to the scientific community, researchers, experts, and non-governmental organizations can provide valuable solutions and information based on first-hand experiences of climate change's impact on global communities. While parties have been encouraged to continue their GST discussions, I am eager to see any adjustments to the process at COP27 that could change aspects of the Technical Dialogue process in response to the successes and challenges at Bonn.
MZ: The primary challenge of the GST moving forward is to ensure its effectiveness and accuracy and consider the holistic consequences of proposed response measures and efforts. While Bonn demonstrated the promise of the GST approach and party engagement, improvements can be made as the process's experience grows. In particular, important gaps must be filled to support a more robust stocktaking process. Notably, the stocktaking conversation has been dominated by techno-economic assessments such as indicators of emissions, renewable energy deployment, and technology status. Yet, these largely available techno-economic indicators do not sufficiently address societal and institutional progress and challenges. 
Following COP26, I led the research with colleagues from CGS and CEEW on measuring the political economy progress toward the global warming goals to shed light on this gap. The question that motivates this research is:  How can we better characterize and measure progress on the political economy enabling conditions for, and barriers to, reaching the Paris goals? Especially, despite their critical importance, there is little formal measurement of political economy factors because of the conceptual complexity and data limitations. We identified 16 key indicators (e.g., the track record on previous climate commitments,  the robustness of climate institutions, and the number of co-benefits partnerships) regarding global warming from five political economy dimensions, namely national ambition, institutional arrangements, stakeholders and interests, policy effectiveness, and public opinion to assess the potential to track the political economy aspects of mitigation progress and evaluate their measurability. Our goal is to propose a general analytical framework and to set a research agenda to better incorporate societal dimensions—in this case, political economy—into the process of GST. 
This work was supported by the ClimateWorks Foundation as part of the iGST project and benefitted from a range of experts on this topic. It seeks to highlight these additional yet critical elements to tracking progress and set up the process for solutions sharing and widespread implementation. I look forward to continuing these discussions this November, where we will be focusing on launching a new format to lift up underrepresented voices, specifically from the next generation, to provide critical input into the GST.  
Additional Reflections on SB56 
Expert: Paige Hawksworth, Graduate Assistant, CGS
Financial Commitments: During the COP26 in Glasgow, countries were asked to reconsider their financial commitments to reduce carbon emissions and contribute to mitigation and adaptation efforts. Governmental delegates agreed to create a work program to increase the mitigation, adaptation, and implementation targets in the coming years. After the IPCC's Sixth Assessment Report identified the gap between global pledges and what is necessary to achieve Paris Agreement goals, countries were asked to revisit their pledges more often than was initially expected to adjust to changing global needs. Discussions at Bonn were framed by the passage of Article 6, enabling countries to cooperate in reducing emissions through trading carbon credits and aiming to ensure emissions reductions and adaptation contributions.
Mitigation and adaptation were central to the two primary agenda items at Bonn. While COP26 was targeted as the "adaptation" COP, the negotiations did not fulfill expectations, and substantive action remained limited. For COP27, these negotiations aimed to recenter adaptation priorities and goals. The Glasgow-Sharm-el-Sheikh work program focuses on the global goal on adaptation (GGA) and the additional work program for scaling up mitigation efforts. As detailed above, the inception of both of these programs at Glasgow laid the groundwork for further discussions this past week. Delegates at Bonn in an informal group considered the creation of this new work plan and detailed the urgency of increasing mitigation implementation within the next two years. As COP27 approaches, delegates will hopefully set a solid foundation to build upon mitigation and adaptation efforts for the coming years.