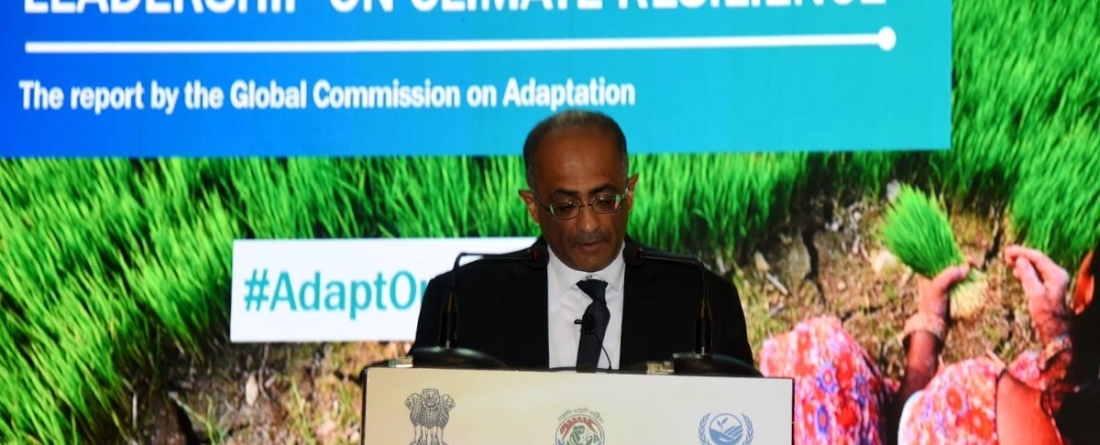 CGS Professor Anand Patwardhan, research director for the Global Commission on Adaption (GCA), helped launch the key findings in New Delhi for their flagship report, Adapt Now: A Global Call for Leadership on Climate Resilience, for which he is a lead author on. The commission is led by Ban Ki-Moon, 8th Secretary General of the United Nations, Bill Gates, Co-chair of the Bill and Melinda Gates Foundation, and Kristalina Georgieva, CEO of the World Bank. 
The report finds that investing in adaptation not only prepares key systems to be more resilient and productive, but can also have significant economic returns. Specifically, investing $1.8 trillion globally from 2020 to 2030 in five areas could yield $7.1 trillion in net benefits. 
Patwardhan led the research across seven interlocking systems -- food, natural environment, water, cities, infrastructures, disaster risk management, and finance -- and was the lead author for the chapter on disaster risk management. He was joined by CGS Professor Rosina Bierbaum who served as an advisor to the report. 
"The impacts of climate change are being felt more strongly and frequently across the world, and most of these impacts are being felt by developing countries," remarks Bierbaum. "This report proves that urgent innovation and investment into adaptation across a global economic system can spark real positive change immediately and into the future."
Patwardhan presented the report's key findings at the New Delhi launch event, which is one of the ten capitals and cities hosting parallel events.