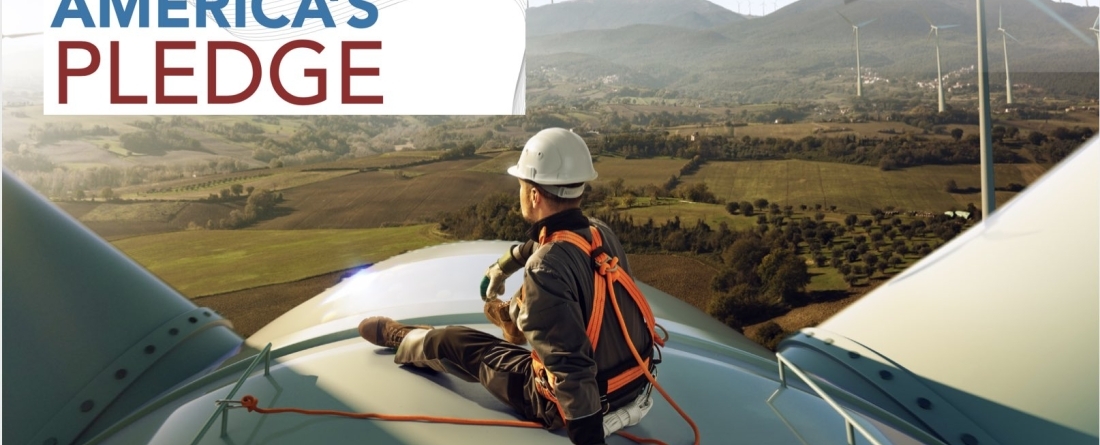 Launched at the 25th Conference of Parties (COP25), the latest and most comprehensive assessment of U.S. climate action from states, cities, and businesses was released from America's Pledge initiative on climate. The report, Accelerating America's Pledge: Going All In to Build A Prosperous, Low Carbon Economy for the United States, provides an updated assessment of the current trajectory of climate actions from states, cities, and businesses; and puts forth a vision of where the U.S. economy could be in 2030 with enhanced ambition, and an 'All In' climate strategy, including a federal re-engagement strategy, built upon the foundation that non-federal actors have enacted.
"As the international community seeks to raise global ambition to tackle climate change over the coming year, this report identifies the remarkable scale of action being driven by states, cities, businesses, and others across the United States," said Nate Hultman, lead author of the report and director of the Center for Global Sustainability at the University of Maryland. "The report's results are encouraging, showing a large impact and a pathway to drive ambitious emissions reductions in the United States. The rapidly growing coalition acting on climate in the United States is globally significant, is already delivering significant emissions reductions, and is laying the groundwork for enhanced ambition after 2020. It is also showing the way toward a new model of building climate action based on leadership across all parts of our American federal system.
The report focuses on how to deliver an ambitious national strategy that builds on the current and growing leadership from states, cities, businesses, universities, and more; and features several important conclusions:
The coalitions of actors addressing climate change are globally significant, representing almost 70% of U.S. GDP, 65% of population, and over half of U.S. emissions. These are equivalent to the world's second largest economy--larger even than China. 
Extending bottom up action across a coalition of states, cities, and businesses deploying aggressive best-practice climate policies can reduce U.S. emissions 37 percent below 2005 levels by 2030.
Adding Federal government action from Congress and the Executive branch would put the U.S. on track to reduce emissions 49 percent below 2005 levels by 2030, in line with 1.5C warming goals of the Paris Agreement, and lay the foundation for a net-zero emissions economy by 2050.
We are already on our way, with a rapidly expanding coalition of actors and deepening commitments that, even based on commitments already on the books would deliver a reduction of 25% below 2005 levels by 2025.
In addition to Hultman, more CGS team members Leon Clarke, Christina Bowman, Morgan Edwards, Ryna Cui, and John O'Neil co-authored the report, with partners from the Rocky Mountain Institute, World Resources Institute, and CDP. CGS and RMI co-lead the overall America's Pledge research and project team.
CGS research director Leon Clarke and report co-author, notes, "Bottom-up action isn't just happening in the U.S. It's happening around the world. A key question is how we provide the knowledge and tools that these bottom actors need as they map out their steps forward. We hope the methodology in this report will serve as an important contribution to that discussion and not only in the U.S., but also for the bottom-up community around the world."
CGS senior manager Christina Bowman, "The research that CGS has led with this latest report shows the US and the rest of the world what this coalition of climate actors is capable of—achieving emissions reductions that make a tremendous overall difference. The latest findings show that the coalition has grown significantly in the past year, and is now the world's 2nd largest economy and the emissions reduction potential from these actors is critical to communicate that we're still working towards our Paris goals." 
Since 2017, the America's Pledge initiative on climate change has analyzed, aggregated, and showcased the broad swath of climate action here in the U.S. from leading states, cities, businesses, universities, faith groups, cultural institutions, and more, in order to drive down their greenhouse gas (GHG) emissions consistent with the goals of the Paris Agreement. This is the third and latest report, following the 2017 and 2018 reports. Find reports, executive summaries, technical appendixes, and more at americaspledge.com.
----
The Center for Global Sustainability at the University of Maryland School of Public Policy was founded in 2016 to integrate climate and energy research and policy. CGS works to build global capacity for analysis to support climate ambition, to understand cleaner energy technology pathways, to enhance resilience to climate change, and to support new approaches to energy and climate finance.