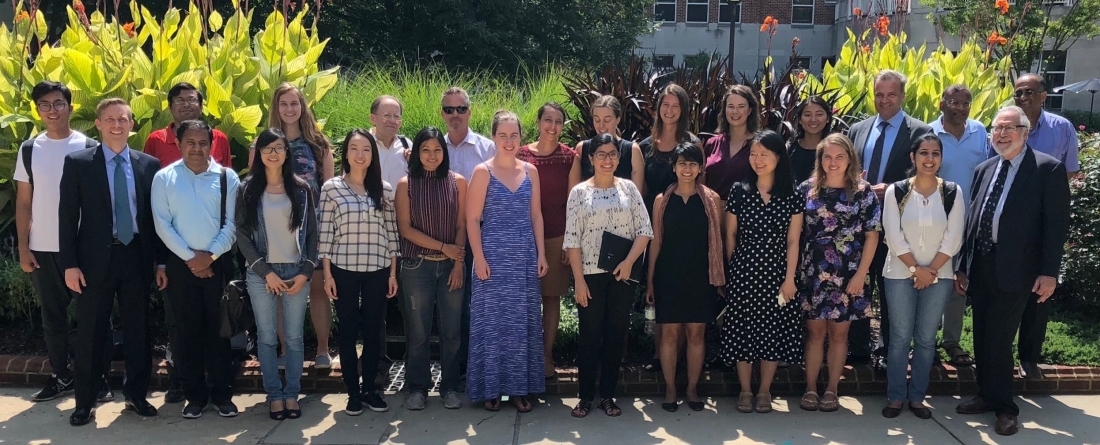 The Center for Global Sustainability (CGS) works to catalyze more effective action on climate and sustainability challenges by integrating collaborative engagement across diverse communities with our ability to generate high-quality analysis. Our deep team of scholar-practitioners has significant and diverse experience in implementing real policy and decision making at the highest levels, and simultaneously in leading field in research. CGS works to build global capacity for analysis to support climate ambition, to understand cleaner energy technology pathways, to enhance resilience to climate change, and to support new approaches to energy and climate finance. 
Available Positions
The Center for Global Sustainability (CGS, https://cgs.umd.edu/) in the University of Maryland (UMD) School of Public Policy seeks a research associate with strong quantitative skills and a desire to apply those skills in support of climate and sustainability issues. This position will be a full-time appointment for two years.
The Research Associate in Climate Mitigation and Sustainability will work with CGS and the Joint Global Climate Research Institute (JGCRI) to conduct integrated quantitative analysis and modeling of energy systems, land use, and related issues at the center of climate and sustainability debates. Specific projects may include but not limit to the following:
Understanding the potential for sub-national collaborative actions to reduce greenhouse gas emissions in key emitting countries.
Exploring pathways for phasing out coal-fired electricity generation capacity worldwide and in coal-reliant countries. 
Developing scenarios for climate-related financial risk analysis.
Evaluating the co-benefits of climate change mitigation, such as air quality and human health, economic development and other national priorities.
Developing tools to explore climate mitigation pathways in India.
Incorporate agricultural and other land-related mitigation options into international climate agreements.
Primary duties and tasks of this position would potentially include:
Collect and synthesize data for use in quantitative, integrated modeling.
Modify and run the GCAM integrated assessment model to produce different policy and technology scenarios.
Process and downscale model outputs to needed resolution.
Conduct background research and analysis of climate, energy, environment, and sustainable development policies.
Conduct background research on energy technology trends.
Contribute to developing reports and research papers.
The candidate should be self-motivated, team-oriented, and interested in applying quantitative methods to assess climate and sustainability issues. Specific required and preferred skills are:
Minimum qualifications:
Candidates must have received a Master's degree within the past 24 months or within the next 6 months from an accredited college or university. 
Desired qualifications:
Background in quantitative analysis, data collection and management preferred. 
Coding skills in R and/or Python.
Excellent English language proficiency required, particularly written.
Excellent communication skills and the ability to work in a team environment.
To apply, please send a resume and brief cover letter Dr. Leon Clarke at lclarke@umd.edu and Dr. Ryna Cui at ycui10@umd.edu with an email subject of "CGS-Senior Faculty Specialist: Last Name, First Name." Applications will be reviewed until the position is filled; the priority deadline is March 20, 2020.
The Center for Global Sustainability (CGS) was founded in 2016 to catalyze enhanced global action in climate, energy, and sustainability, by integrating analysis to support climate ambition with collaborative action to engage research, education, and policy. CGS has significant funded programs covering local to global policy on climate mitigation, climate finance, energy pathways, and resilience. Leadership from faculty and researchers within CGS are placed in several international programs and initiatives, such as the America's Pledge Initiative on Climate, Global Commission on Adaptation, and the Initiative to Close the Investment Gap in Sustainable Infrastructure. It is housed within the UMD School of Public Policy.
The School of Public Policy focuses on integrating practice with research, blending national and international policy, and working at all policy levels from local to global. It grants degrees at the bachelor's, master's and doctoral levels. It currently counts in its community roughly 800 undergraduates, 300 graduate students, 500 Executive Program students, 60 staff, and 80 faculty. 
The University of Maryland (UMD), College Park, is a land-grant, sea-grant, top tier (R1) research university, and is the major research university in the Washington, DC area, located 8 miles from the U.S. Capitol. It has an annual budget of $2.1 billion and administers approximately $1.2 billion in combined University of Maryland annual research awards. It has world- class strengths in environmental and climate policy, environmental and earth sciences, remote sensing, climate and energy modeling, and the social sciences. The University of Maryland, College Park, an equal opportunity/affirmative action employer, complies with all applicable federal and state laws and regulations regarding nondiscrimination and affirmative action; all qualified applicants will receive consideration for employment. The University is committed to a policy of equal opportunity for all persons and does not discriminate on the basis of race, color, religion, sex, national origin, physical or mental disability, protected veteran status, age, gender identity or expression, sexual orientation, creed, marital status, political affiliation, personal appearance, or on the basis of rights secured by the First Amendment, in all aspects of employment, educational programs and activities, and admissions.