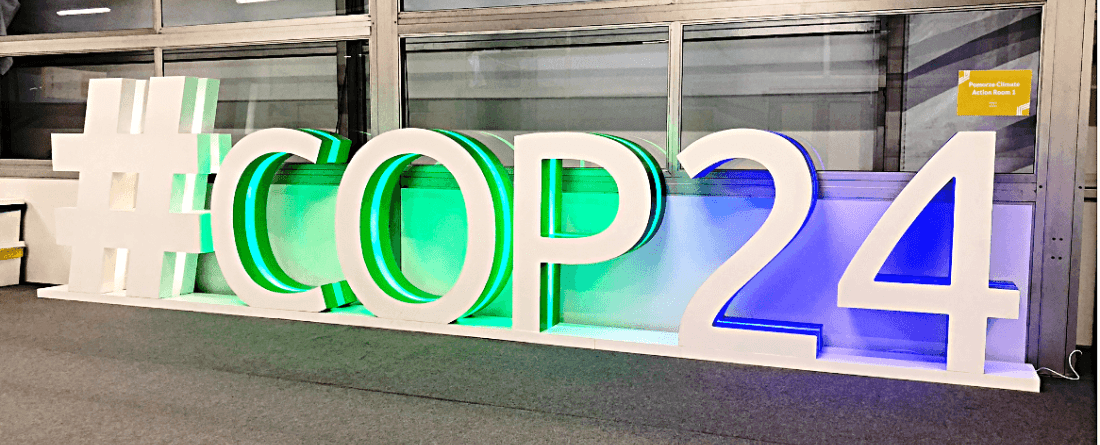 The Center for Global Sustainability will have a strong presence at this year's 24th meeting of the Conference of the Parties (COP 24) to the United Nations Framework Convention on Climate Change (UNFCCC). In addition to participation by a CGS-organized delegation of University of Maryland faculty and students, CGS is hosting an official side event and co-hosting an event as a part of the "We Are Still In" (WASI) day of action.
This COP has significant potential to set the tone for the future of international climate action as CGS Director Nate Hultman notes, "this conference is the beginning of that sprint to 2020 to encourage all cities, states, businesses, countries, and other actors to set their sights on more rapid economic transformations".
Held in Katowice, Poland, from December 3 to 14, COP24 has the objective of defining the guidelines that govern the Paris Agreement, including rules on reporting their national determined contributions (NDC), also called the "Paris implementation rulebook." This COP is particularly important, given the Paris Agreement commitment to finalizing implementation guidelines by December 2018. An equally important issue that will be central to COP discussion includes how to meet the agreed upon goal of mobilizing US$100 billion every year by 2020 to support climate change mitigation and adaptation efforts.
The University of Maryland delegation, which is integrated in these discussions, includes CGS Director Nate Hultman; School of Public Policy Professor and research co-lead of the Global Commission on Adaptation Anand Patwardhan; and CGS Manager Christina Bowman.
"Now more than ever, adapting to climate change needs to be integrated into our social, economic and environmental policies and actions - to build a more sustainable and resilient economy and to protect the most vulnerable," remarks Patwardhan, "I am looking forward to engaging on these issues in the coming months and supporting the work of the Global Commission on Adaptation as it seeks to accelerate actions on adaptation."
It has become even more clear with the release of the IPCC 1.5 special report and the United States' Fourth National Climate Assessment (NCA4) that swift, coordinated action through partnerships and innovative thinking at all levels must be taken to prevent the most severe impacts of climate change. In Katowice, CGS is organizing and participating in several events to discuss enhancing national ambition through the integration of and building on subnational action.
CGS has been research co-lead for the America's Pledge initiative, and our recent report demonstrated how non-Federal actors in the United States can make significant contributions to these implementation goals. At the COP, CGS is co-hosting an event, Fulfilling America's Pledge: Findings and Opportunities, for America's Pledge to take center stage at the US Climate Action Center on Saturday, December 8 from 10:00 – 12:00 (CET). This event will feature Mary Nichols, Director of the California Air Resources Board (CARB); Takejiro Sueyoshi, Special Advisor to the UNEP Finance Initiative, and more. Hultman will be introducing the event and moderating a panel on the groundswell of climate action occurring from real economy actors such as states, cities, and businesses. Join the livestream here.
Then, CGS will host an official side event, Raising Ambition by Linking National with Non-Party Actions, on Monday, December 10 at 14:00-16:30 (CET). Hultman will join experts Niklas Höhne, Founding Partner, NewClimate Institute and Mariana Panuncio-Feldman, Senior Director, World Wildlife Fund, Bobbi Plecas, B.C. Deputy Minister of Climate Change, and more to review recent assessments of the impact of non-Party climate action in the US and globally. Not in Poland? Join the conversation here.
Hultman will also participate in the ClimateWorks Foundation event, "In Formation Laying the Foundation for an Inclusive Global Stocktake" on Tuesday, December 11 at 10:45-12:15 (CET) where discussion will involve how to tackle the big questions facing the impending Global Stocktake.
CGS will continue to engage with the climate policy process in years to come, where we will be seeing a critical 2-year period to raise global climate ambition. As Hultman notes, "This conference is really the opening bell for a 2-year period of both top-down and bottom-up climate policy actions that will be critical for raising global climate ambition, with the end goal of realizing major new increases in climate commitments in 2020."