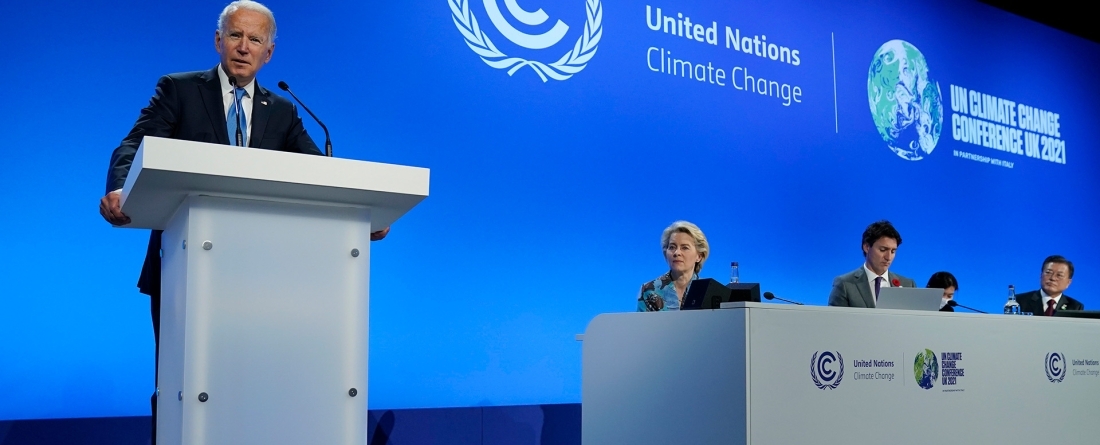 Via Maryland Today / By Karen Shih
Participating UMD Researchers, Staff Share Hopes, Concerns as UN Climate Conference Wraps Up
While House Speaker Nancy Pelosi declared at global climate talks in Glasgow this week that "America is back" and politically ready to lead the world again on climate change, University of Maryland researchers have long been a consistent presence in an international effort to stem a disaster.
From clean energy to global public health to satellite monitoring of the environment, their research is central to addressing the consequences of climate change. They've also helped lead the discussion at the 26th United Nations Climate Change Conference of the Parties (COP26), ending this weekend after two weeks of talks and major agreements.
"On the one hand, I'm feeling optimistic because of the level of enthusiasm that's here, the level of money that's being pledged," said Research Professor Leon Clarke, acting director for the Center for Global Sustainability (CGS) in the School of Public Policy. "We're seeing this momentum that's not just national—it's everybody."
He cautioned, "But we'll see how this enthusiasm can be translated into tangible solutions." 
Maryland Today spoke to several UMD participants at COP26 for their key takeaways from the conference.
The U.S. has reemerged as a climate leader
"The U.S. is back in the game—back in a big way," said Clarke, who spotted leaders such as Special Presidential Envoy for Climate John Kerry walking by during the span of his Maryland Today interview from COP26. "The U.S. went from doing little or being antagonistic to international climate processes to now pushing on countries around the world to increase their ambition."
Countries participating in the Paris Agreement are now revising their emission reduction commitments—and the U.S. is taking the lead. "The U.S. went from pledging 24 to 26% emissions reduction by 2025 to now 50 to 52% reductions by 2030," Clarke said. 
The U.S. is also initiating the Net Zero World Initiative, an effort to make U.S. technical expertise and philanthropic financial support available to countries looking to move more aggressively on climate change. Clarke has been watching this process during his two weeks at the conference, and he's also hosted panels, including a session with U.S. Sen. Ben Cardin (D-Maryland) on coastal resilience amid rising sea levels, and met with colleagues from around the world.
The global methane pledge is a big deal 
The U.S. also spearheaded the global methane pledge, which seeks to curb emissions of a greenhouse gas that is second only to carbon dioxide in terms of impact on climate—and which is increasing rapidly in the atmosphere—30% by 2030. This is backed by more than $300 million from philanthropic organizations, and the pledge has been signed by more than 100 countries. 
"The methane agreement is one of the most perfect examples of why COP needs to happen," said Shannon Kennedy, CGS's senior manager of strategic engagement. "Getting people here, applying political pressure and getting countries to sign on to these important commitments will change the course of climate action and emission reduction globally." 
There's a second chance to act on deforestation
More than 130 countries that represent 90% of the world's forests have pledged to stop or reverse deforestation by the end of the decade.
"The commitment to end deforestation by 2030 is certainly welcome news and very exciting," said Laura Duncanson, assistant professor of geographical sciences, who participated virtually in the "Monitoring the Lungs of the World from Space" panel. "However, similar pledges were made in 2014 and we have not seen a decrease in deforestation, to date."
She noted that the new pledge is supported by financial commitments of $1.7 billion to support Indigenous peoples' conservation of tropical forests and $1.5 billion to support conservation of the Congo Basin.
Her research, which in part uses LIDAR data from a recent UMD/NASA satellite mission, can help ensure that the pledge is being met by tracking carbon emissions from deforestation rates from space, as well as how much carbon is being drawn down from the atmosphere from forest regrowth and tree planting. "This commitment gives our community hope and reaffirms the importance of holding countries accountable to these commitments by tracking deforestation, and forest carbon fluxes, from space," Duncanson said. 
Climate change has significant health costs 
COP26 was the first global climate change conference to devote a pavilion specifically to health effects—an encouraging development for global and public health communities, said Amir Sapkota, a professor in the Maryland Institute for Applied Environmental Health. 
"Climate change is killing people and making them sick now," he said. "Climate scientists have been telling us all along: Extreme events are on the rise, and this trend will continue for a foreseeable future despite mitigation efforts. For the public health community, it poses a big question: How are we going to adapt to these hazards so we can minimize death and sickness?"
Sapkota spoke virtually at the "Colliding Disasters: Adapting to Increasing Climate and Health Risks" panel about his National Science Foundation-funded project to develop an early warning system for diarrheal diseases in the Asia Pacific region. "Such warning systems are urgently needed for climate-sensitive diseases so public health practitioners can anticipate, prepare for and respond to the disease threats, protecting the health and well-being of those who are most vulnerable," he said. 
Developing countries need more than empty promises
From devastating floods to droughts to fires, developing countries suffer the greatest harm from climate change—even though they contribute the least to the emissions that are warming the planet. 
That's why they need significant funding not only to mitigate ongoing losses and adapt in critical areas like agriculture, tourism and fishing, but to develop sustainable, carbon-neutral economies of their own, experts said. 
But such financing has "been referred to as a Pandora's box, one that most developed countries do not want to open," said Catherine Nakalembe, associate research professor of geographical sciences, who spoke on the panel for the "AI for Climate Action" event. "Many promises have been made in the past, including $100 million to developing countries every year since the Paris Agreement [in 2015], but that never arrived."
She urges greater transparency and inclusion in emission reduction discussions, and cited the speech of Barbados Prime Minister Mia Mottley, whose speech at COP26 drove home the urgency for her island nation of arresting the global temperature increase and rising seas. "One-point-five degrees Celsius is what we need to survive. Two degrees Celsius is a death sentence," Mottley said. "We do not want that dreaded death sentence, and we've come here today to say: Try harder, try harder."