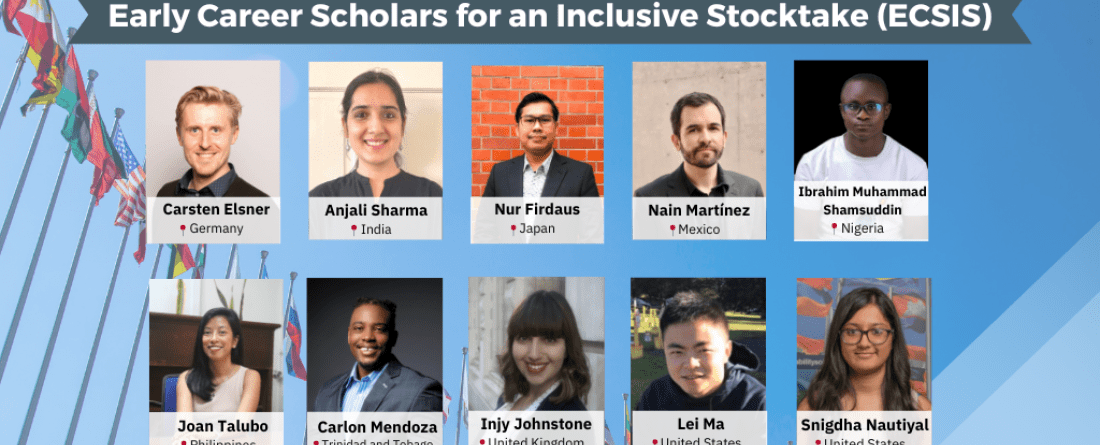 The Early Career Scholars for an Inclusive Stocktake (ECSIS) in-person workshop will take place on September 14-15, hosted by the Center for Global Sustainability (CGS) and Council on Energy, Environmental and Water (CEEW). 
To kickoff the workshop, we will host a panel open to all faculty, staff, and students. The panel discussion, Responding with Ambition and Action in the Year of the Global Stocktake, will feature experts and policy practitioners to discuss the critical moment of the first-ever Global Stocktake (GST), which aims to review the collective progress in climate actions mandated under the Paris Agreement.
Speakers include: 
Amar Bhattacharya, Center for Sustainable Development, Global Economy and Development, Brookings Institution
Dean Robert Orr, School of Public Policy, University of Maryland
Jennifer Hadden, Associate Professor, Department of Government and Politics, University of Maryland
And many more!
The ECSIS program gathers early-career scholars from around the world with diverse disciplinary and cultural backgrounds to discuss research topics of urgency and relevance to the GST. These discussions cover mitigation, adaptation, finance and equity, specifically focusing on the Global South. The two-day workshop includes panels and research presentations to help guide and inform the scholar's research.
Follow along with the workshop on the CGS Twitter and Linkedin. Contact Mengye Zhu (mzhu1234@umd.edu) to find out how to get involved with the workshop's activities!